30% på alt med koden BLACKWEEK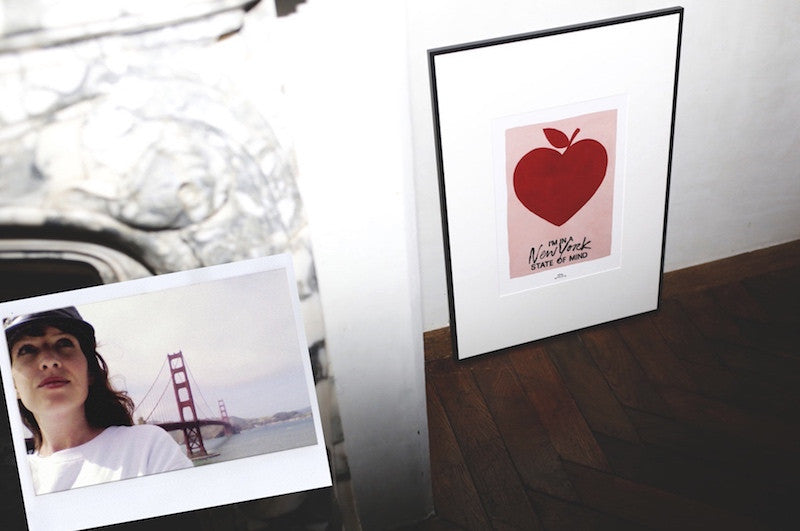 Milou Neelen, Creator of Hotel Magique
#TIMEFORCREATIVESOULS

Apples in the shape of hearts, palms leaning towards pink wind swirls, dreams of hotels full of magic: With her signature style playing around a certain "Je ne sais quoi" vibe and our favorite shade of dusty rose, Milou Neelen has created a stationery brand that stands out. 

After working for a Dutch fashion brand for some years, founder Milou Neelen has both been freelancing as an illustrator and in addition launched her own paper goods brand Hotel Magique. Her sense for beautiful color compositions paired with a fine feeling for letters and words certainly contributes to her growing number of fans, and she was already featured by magazines like L'Officiel Netherlands, ELLE or Chapter Friday. As for us, we could definitely imagine moving in at a physical Hotel Magique. And who knows? Maybe we will be able to visit a Hotel Magique Hotel in the future...


Dear Milou, you are the owner of magic Hotel Magique, which is a wonderful source for stationery and posters. How did you get the idea about it? We're especially curious about the name…
While I was on a holiday in the US two years ago I bumped into some super beautiful Japanese momi paper. One gigantic golden piece sized about 1 x 2 meter. In love, I left the store thinking of what the hell I could do with that size before I bought it, and in the evening started thinking of an artwork I could paint on it if I would hang it as a canvas in my living room. I decided I wanted a hotel feeling at home so it had to be something with Hotel... And started combining the word hotel with anything I could think of including Hotel Magique. Back in Holland I designed an artwork and painted the momi paper with 'Hotel Magiue, open crazy late'. I always wanted my own brand but until than I didn't have a clue what it should be and especially what name the brand should have, since I am not a big fan of using my name. But with Hotel Magique in mind, and especially the word magique, I figured out you can make so many lovely quotes. Each one of them with super good vibes thanks to the word magique; You are magique, je t'aime magique, she's got magique in her eyes. Since I only had time in between assignments I wanted to think of a product which was easy to design, that's why I started off with posters and cards. But I definitely have many more ideas in mind!
Is there a hotel in real life that you would consider the perfect showroom for Hotel Magique?
Oh yes, definitely more than one! I fell madly in love with the Katamama hotel here on Bali - design heaven! Just to name a few more: Hotel Saint Marc in Paris is one-of-a-kind, and I love every hotel set up by both Soho House and ACE.


Do you have a favorite motive of your Hotel Magique work? (Are we even allowed to ask that?)
No, I don't have one favorite, I like combinations of prints. But most of the time I like new series most, but that's of course because I've seen the older ones already for some time. So for me, it's nice to see something new…
You have started a successful creative career. Did you always know what you wanted to do?
Luckily my parents figured out early that I had to do something with my hands. But after studying graphic design and fashion styling there was a moment of total cluelessness where I started painting since I had no money for Christmas gifts. This went pretty well so I painted some more, and later on got my first exhibition in the entrance of a big club in Amsterdam. Many paintings and exhibitions followed and after I while I got a phone call from ELLE magazine if they could use one of my paintings as an illustration with one of their articles. Also, one month later I got a job as a print designer at the women's collection of Scotch & Soda! So yes, I always knew it had to be something creative, but I am also very lucky with how my path turned out.
Whenever we talk about Amsterdam, people tell us how much it reminds them of Copenhagen, or the other way round. Well, we guess they both feel quite cosy and have a lot of water surrounding them… How does Amsterdam inspire you?
I think I get mostly inspired in Amsterdam thanks to the people it attracts and their creative drive. I am surrounded by many super inspiring creatives, so whenever I talk to them I get new ideas or an urge to create something new. 
What do you like the most about this city?
The summer. Summer in Amsterdam is awesome. Everyone is happy and outside, long evenings in the park and working nights in the studio with all the windows open - I love it.
We read you were planning to move to Bali… 
Yes, I have already started! Well, me and my boyfriend are doing a six months test drive, but now into the second month we are already madly in love with Bali.
You have among others worked for ELLE or the lingerie brand Love Stories Intimates (which by the way has a really cool name). How does the process usually look when you work with a company? How much can you bring in your own style?
I have been working together with ELLE and Love Stories for a couple of years now, so I have a lot of freedom which is awesome. ELLE mostly has an idea ready, which I can translate into my own visual perception. Whenever we design a Love Stories collection (working on prints for FW18 as we speak) we start out with a general mood. We create a concept, look for texts, create a color card and I actually just start and see what comes out. Some we won't use and some we will or maybe need some twitching. But definitely I get all the creative freedom, so it is really an amazing brand to work for!

What would be a dream project of yours?
I would love to do a collaboration with an awesome hotel and Hotel Magique. I also love to design prints for home products, so I am super excited about my collaboration with Sissy Boy Homeland which will be launched in a couple of weeks.
Many of the creative souls we interview are big fans of books. The physical, paper-filled, real ones. Do you have some favorites you can recommend? 
Yes, I need paper filled books in my life! I did not bring any to Bali, so feeling a little lost here. But to name a few: Sonia Delauney, Andy Warhol, Picasso and some books with funny and weird illustrated dogs and daily American life. So all illustration and art focused. Delauney for prints, Picasso and Warhol for the way of thinking. There's an old ad in one of my Warhol books where instead of drawing a shoe with a snake pattern, he drew a shoe with a snake curled around it. Triggers me into thinking outside of the box.
What would you dive into if you had half a year off for doing whatever project or activity you want?
Oh man… If I had all the money in the world I would buy a big piece of nature on Bali somewhere secluded and turn this into a safe haven for stray dogs. Just like the one in Costa Rica called Territorio de Zaguates. Here you can do a two hour walk with 900 stray dogs at the most gorgeous piece of nature. In that way you contain this plot from hotels being built, keep the nature as is and help the big problem of too many stray dogs here on Bali. Or maybe build a Hotel Magique. Or maybe combine these two…
What is up next for Hotel Magique - and for you as an illustrator?
I am thinking in what ways I would like to see Hotel Magique grow. I am on the hunt for more international retailers and thinking of ideas for products to add to the range. Next to all the fun assignments I am working on or which are planned for the next couple of months, that's my main focus.
We really like your dreamy Instagram style. Can you recommend some accounts that you find inspiring?
Yes, just to name a few: Maja Wyh @majawyh, Laurence Leenaert @lrnce, Coco Fernandez @cocoterafernndez, Stieglitz @stieglitzlabel and hero Donald Drawbertson @drawbertson.
 
➸ Starting to feel magic as well? Have a look at Hotel Magique's Instagram account or at Milou's personal feed. If your heart beats for stationery, you can find wonderful cards and posters at Hotel Magique's online shop.
You might also like our interview with illustrator and design student Mathilde Friis Olsen or the story of Kristy Ford, illustrator based in Australia.
Interview by Mermaid Stories
Photos: Courtesy of Milou Neelen