30% på alt med koden BLACKWEEK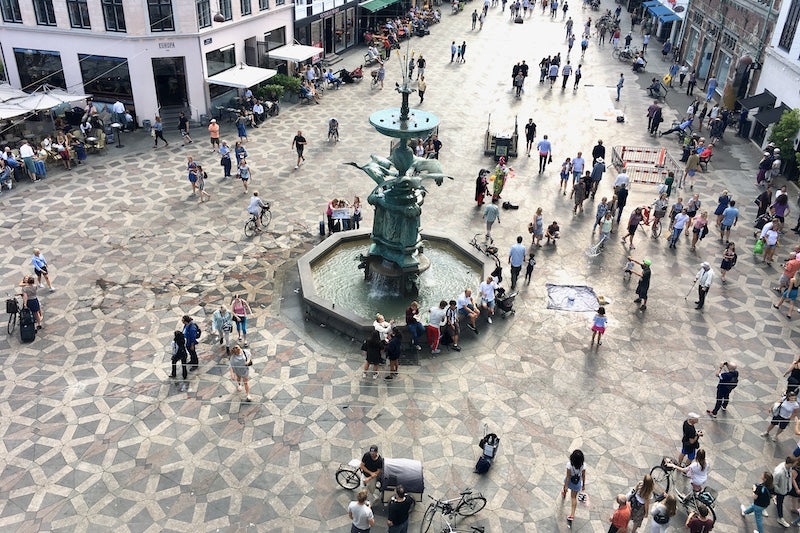 Things to do in Copenhagen in 2019
Oh, Copenhagen! City of the little mermaid, of Scandi chic but effortlessly styled people and of course smørrebrød, the bread-with-something-on-it specialty of the Danes. A capital so small that you feel at home immediately, yet with everything you want and need.
If you haven't visited this city before, it will surprise you how relaxed everything is. In many places like bakeries, you need to pull a number instead of freestyle queueing - and can take a look what you really want in the meantime. This is also the feeling about Copenhagen itself: You really can take your time, and most of the best sights are within reach by foot or bike.
Denmark's capital is in general very bike-friendly: You'll see people biking everywhere, and you should definitely rent one to get around easily (see below). So what should you really see and eat in Copenhagen? Here are the top things to do if you visit Copenhagen in 2019.
The classics - Sightseeing in Copenhagen
If you want to tick off the must-see's, this is what you should do.
The mandatory selfie with the little mermaid
Warning: She really is little. Most people (including me) were disappointed because they imagined her a bit bigger. At least more spectacular. But there she is, sitting on her stone, looking out there with her dreamy expression and elegant position. You can stand in front of her or lean on a stone to mimic her posture, but make sure to get that must-have selfie with her.
If you really want to go all in, go early in the morning and get a sunset picture. During the day, the small statue is crowded with people and you will have someone standing in the back of the picture.
Shopping on Strøget
Copenhagen has a beautiful inner city with a vast variety of shops. Strøget, as the main part is called, is one of the longest shopping areas in Europe. Note that it is not the name of one street, but rather a collection of shopping streets which together make for a looong shopping street.
You will find all the big names, If you want a good view over the stork fountain at Amagertorv and just in general over the lively goings of the inner city, Café Norden (you see their ice-tea in the picture above) is a great place to rest and look.
Reffen - The go-to street food market
A lot of guides you read might still point you to Papirøen (Paper Island) where a beautiful street market had been located right across the water from Nyhavn. But this is no longer there, since Papirøen closed down in December 2018. A pity for the city, but fortunately, a new street food market opened a little further down the waterside.
Some Copenhageners even say it's better than the old one. At least bigger. And you will find great food from many different cuisines and countries. The area is full of young people and very Instagrammable, so take your best outfit and be ready to get lost in decision problems. Ramen, pancakes, neon ice-cream or gyros? Everything is possible.
Art at Ny Carlsberg Glyptotek
If you like to visit art museums, you should give the Ny Carlsberg Glyptotek in Copenhagen a go. It is very close to Tivoli and hosts a few thousand works of art from different periods in history. You'll both find sculptures and statues as well as classical paintings.
Especially nice for rainy days, a discovery tour in the Ny Carlsberg Glyptotek will make for a great half day activity. The inside garden and museum's shop alone are definitely worth a visit. Good to know: At the moment of this writing, you can visit the museum for free on Tuesdays except for some special exhibitions. 
Visit Nyhavn, the picture-perfect harbor area
A "real" harbor with everything that entailed some while ago, the famous Nyhavn is now a center of touristic attention for both postcards and in live. You'll see people from all over the world strolling and taking pictures of the rainbow-colored houses. Here, at the water, you'll also find two boat piers where you can leave for great one-hour boat tours to get an overview.
If you are hungry and don't want to eat in one of the restaurants at Nyhavn, there is a street food market right across the bridge. There, you find great dishes at a cheaper prices and in a very nice atmosphere. And the view is almost as good.
Rent a bike and cycle like a Dane
The good thing of all of the above sights? They are within bike reach! Even the little mermaid, which is located a bit further off the inner city center, everything is easily go-to-able by bike. You'll find various bike rentals in Copenhagen, most hotels will help you or even provide their own rental. 
When biking, pay attention to stay on the bike lanes - you will find that most streets have these. And don't just stop in the middle of the way. Hold up your hand like the locals when you know you'll be slowing down (and nobody will notice you are a traveller).